The charity Our Blue Light is working hard to shine a spotlight on the Blue Light Programme. This is an initiative sponsored by the Cabinet Office and delivered by the mental health charity Mind on behalf of members of the emergency services in England and Wales.
The Blue Light Programme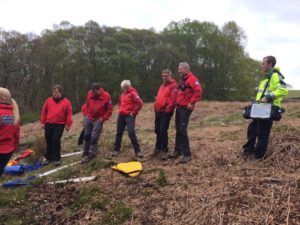 The Blue Light Programme aims to provide mental health support to those emergency staff and volunteers from police, ambulance, fire and search & rescue (SAR) services across England and Wales.
Developed in consultation with individuals from across the services, we have created a range of resources tailored to each service, designed to support the mental health of volunteers, staff, employers and groups. 
Blue Light Pledge
Mind is asking individual units such as fire or ambulance stations and Mountain Rescue Teams to sign up as a way of fighting stigma and make positive changes to improve mental health in the workplace. Signatories will:
commit to the Blue Light Time to Change pledge
develop a pledge action plan
participate in peer network events

Why SAR?
In any given year one in four people will experience a mental health problem. But research has revealed that the estimated quarter of a million emergency staff and volunteers are at an even greater risk of developing mental health problems because of the nature of your roles. 
"You go to nasty jobs and you try to leave it behind. But you've got your own stresses on top of that…it makes the job extremely hard, and sometimes too hard to do."
For search & rescue volunteers especially, balancing volunteering commitments with work and personal life can have an impact on your mental health. Whilst many in search & rescue report great support from their teams, volunteers may also experience a gap in support for mental health problems if their issues do not relate to, or they do not have support within paid employment.