His Royal Highness The Earl of Wessex paid a 'virtual visit' to the area via Zoom on Thursday 25th February 2021. The event was organised and hosted by the Lord-Lieutenant of North Yorkshire and included colleagues from Cleveland Police, local health services and others.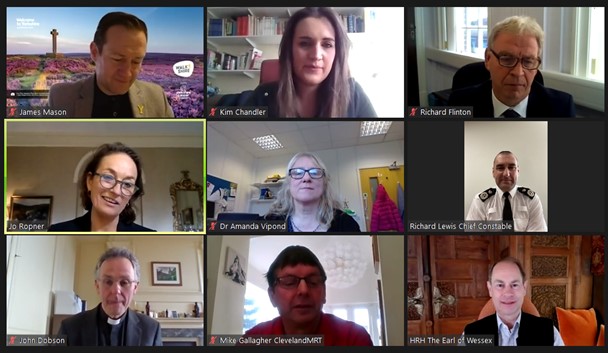 The Earl was interested in finding out how the various services had coped with the Covid-19 pandemic and the challenges going forward. Cleveland Mountain Rescue Team was represented by one of our Deputy Team Leaders, Mike Gallagher.
Mike was asked to talk about how Mountain Rescue had responded to the pandemic and he mentioned that the first lockdown period was relatively quiet but was soon followed by lots of call-outs before they steadied to a near normal rate. The challenges of PPE, social distancing and decontamination of vehicles and equipment were also raised together with our work with the floods and water incidents in 2020 and earlier this year.
Mike also highlighted the difficulties of fundraising last year, how that had been addressed and our funding challenges moving forward in 2021.
The Earl acknowledged the contribution of mountain rescue teams and thanked all those present during the event for their contribution.
Our thanks go to the Lord-Lieutenant for access to the Zoom recording.