Saturday 11th November 12:15. We were asked by Yorkshire Ambulance Service to assist with a 38 year old Eaglescliffe man who had collapsed whilst walking with his family and friends in the woods to the East of Cod Beck reservoir near Osmotherly.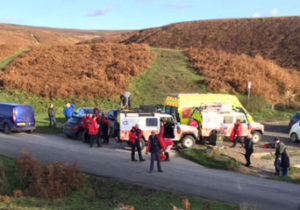 He was treated at the scene by ambulance paramedics before being carried out by team members across the stream for about 200m to a waiting ambulance.
14 team members were involved in the incident which lasted just over an hour.