Survival 2018 Important Information
All entrants should have received emails containing details of their start time, number and start location and rules and regs.
Please be aware that due to a waterlogged parking field the event location HAS been changed over the weekend and ALL will have now been re-issued with details of the revised start venue.
 Please car share where possible and find a parking space WITHOUT impacting on residents.
 Event is very nearly full, and we will therefore NOT be taking entries on the day.
 Please remember to bring your mug!
Register for the 2018 Challenge
Select your preferred option from the choices below;
or
Download and entry form via the link below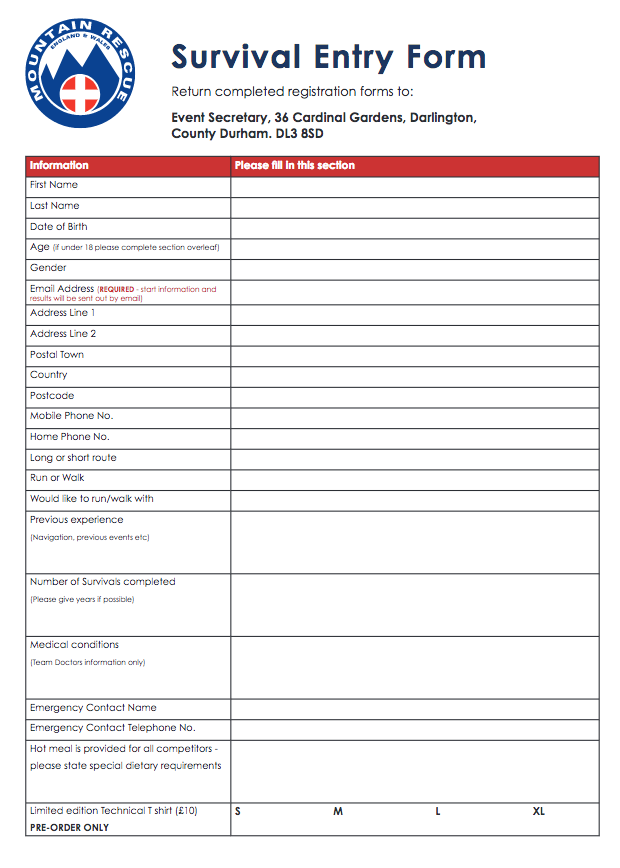 Do you fancy a challenge?
The Survival is a friendly event open to runners and walkers based on an orienteering course of about 26 miles or a shorter course of about 15 miles, to be completed within the 12-hour time limit. 
The event can be completed as an individual or as part of a group.
There will be a series of checkpoints identified by a grid reference and description. Your aim is to visit each checkpoint or via point in the order given on the route card.
Checkpoints are manned by Search and Rescue personnel with drinks available at some. We ask that you bring a mug with you to reduce our landfill!
All competitors will be provided with a hot meal at the end of the event.
The following kit is considered essential; Map and compass, Emergency Food, Survival bag, Whistle, windproofs and full waterproofs. You will also need a mug for your drinks at pit stops! (Mugs can be ordered with your entry.)
The event is one of the major fundraisers for the Cleveland Mountain Rescue Team. This event is widely embraced by the local community as a way of funding a voluntary organisation which benefits the public.
All enquiries regarding entries to Malcolm Selby
Email: survival@clevelandmrt.org.uk
Facebook: @theclevelandsurvival