Way back in June 2021 the Team held an assessment day as we were looking to recruit some new search and rescue members; we aim to have up to fifty S&R members at any one time (in addition to around twenty Support members). The assessment day covered a wide range of attributes such as physical fitness, navigation, working as a team, the ability to gather and apply information and equipment handling.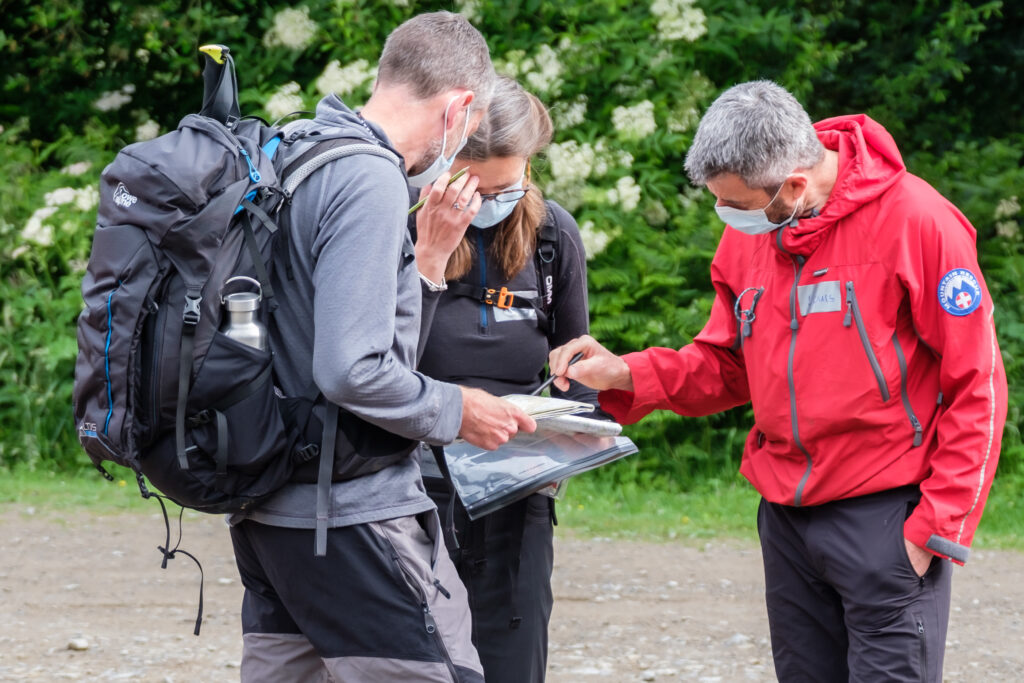 ---
Six people were successful and the next stage for them was to join us last September for an initial three-month period as 'Prospective Candidates'. During that phase they undertook an induction and training programme, learning about the Team and being introduced to the basic skills and procedures. That culminated in a night-navigation test held just before Christmas which they all passed. At our January committee meeting they were officially welcomed as Probationary S&R members and have since started to attend call-outs.
They bring quite a wealth of experience and diverse skills to the Team – including serving and veteran members of the Armed Forces, a comms specialist, two doctors and an IT specialist. Their outdoor interests are very relevant to mountain rescue work, encompassing ultra and fell running, mountain biking, climbing and orienteering.
Having spent the last few months getting to know their fellow Team members it's now a good time to 'introduce' them to you – our friends and supporters, so many of you follow the Team's progress via social media and on our website. So please welcome Charlie, Richard, Al, Dan, Andy and Jordan!
---
Charlie Rowland is an Emergency Medicine Doctor in the Royal Navy and currently works around various hospitals in the North East. He has spent much of the last few years at sea as a Medical Officer but when the opportunity came to start his Emergency Medicine Training at James Cook University Hospital he jumped at the opportunity!
Having moved to the area during the pandemic Charlie was looking for ways to become a more active member of the community and thought that the Mountain Rescue team would be right up his street. 'I have always loved the outdoors: I was really into white water kayaking at university and did a reasonable amount of mountaineering and mountain biking at that time too. Now I am mostly focussing on running and cycling and take every opportunity I can to get over to the Lakes, North Wales and Scotland'.
'I've really enjoyed the training I have done with the Team so far, although it is a juggling act with the antisocial hours I have as a doctor. I have spent many years looking after patients at sea, with many long training sessions lugging stretchers around the tight confines of a ship so there have been a lot of things familiar to me. But working outdoors on the moors has brought a different set of environmental challenges and new people, kit and practices. It has been great to get to grips with these'.
'I am really looking forward to becoming a more active member of the Team and getting to know everyone. Now that I'm on the call-out list I'm looking forward to actually delivering some help to people. It's a really fantastic way to support my local community'.
---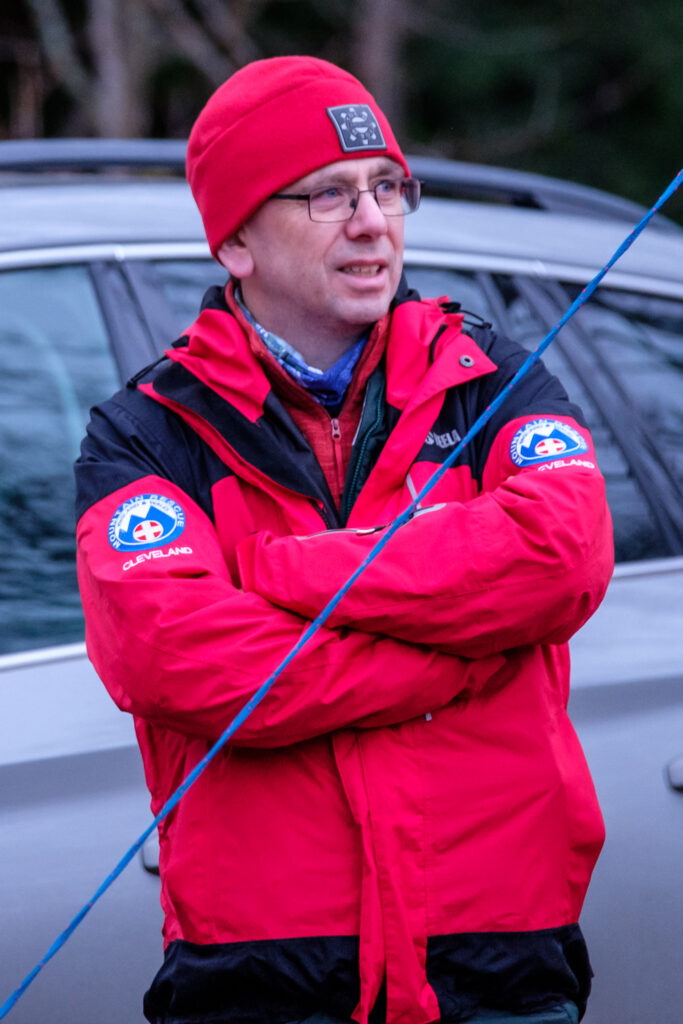 Another doctor in this intake is Richard Rigby who has been a GP in Loftus and now Staithes for 25-years. Prior to that he and his wife worked in a rural hospital in Africa for two-years having trained at Newcastle Medical School and hospitals in Teesside and Tyneside. He also spent 20-years in the TA medical corps; being operational once for humanitarian relief in Nepal.
'I just like doing stuff outdoors with a bit of running, mountain biking, fell-walking, orienteering and sailing at Scaling Dam. We have travelled a lot supporting our children in orienteering for the GB-team before they both moved away. We also like to get away to the Lakes but our pursuit of Wainwrights has been slowed by successive lockdowns and over the last two years I've got to know the North Yorks Moors even better'.
Richard has completed the Team's Cleveland Survival on three occasions and in recent years has walked sections of the Cleveland Way and ran the Lyke Wake Walk for the first time.
'Joining the Team seems to bring together several of my skills and enthusiasms and I am really looking forward to working with a like-minded team of individuals from so many different backgrounds. The selection and training process so far has been very professional and challenging; working with a really impressive group of other applicants'.
'My priority will be upgrading my medical skill set to the very specific needs of the Team but I look forward to challenging myself with some of the technical rope-work which will be completely new to me – as will driving Land Rovers!'
---
Al Brown has worked in computing for most of her adult life. 'I started out in the oil industry as a systems developer and spent five-years on and off the North Sea oil rigs developing and installing systems'. Following work with Hambleton District Council, Al moved to Teesside University where she taught computer science and became an Associate Dean in the School of Computing, focussing on marketing and recruitment for Computer Science and Games courses. While at the university she was fortunate enough to travel the world supporting academics from countries including Sri Lanka, India, Romania and Botswana.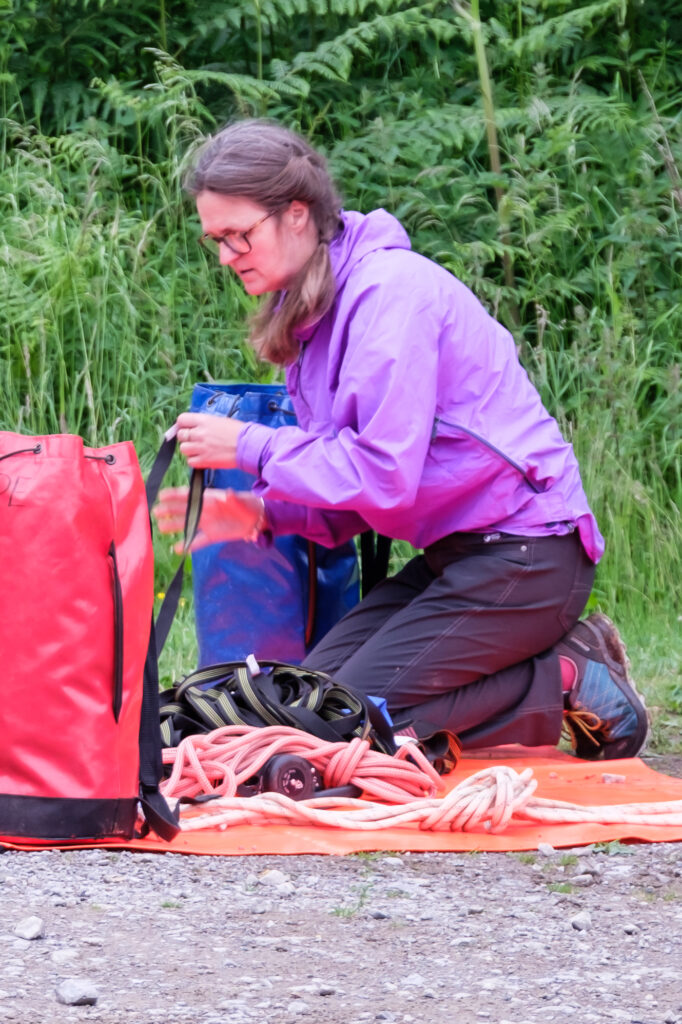 'I have years of experience as a traditional climber and, while I have climbed across Europe, the Lakeland classics are still the top of my list as favourites. I took up running later and fell in love with fell-running, completing a number of mountain marathons and long-distance runs including the Swaledale Marathon. I'm a keen outdoor swimmer, which I have done since childhood. And just generally have a passion for the outdoors. I'm a firm believer that everything is better outside'. 
'Having spent so much of my time outdoors, including in a sport like climbing, I have seen the essential work that rescue teams do. I've been fortunate not to need assistance but have had friends who have not been so lucky and needed urgent care. My circumstances changed at the start of the lockdowns and I found that I had the time and flexibility to be able give something back to the outdoor community'.
'I really enjoyed the assessment process, though had some nervous moments. I have learned so much during the initial training period and am aware there's a whole load more to learn. I was super nervous about the night navigation assessment but found I actually enjoyed once I was on with it. It was a huge benefit having a mentor through the process, the support and advice provided was invaluable and I'm really grateful for that time'.
'I'm keen to focus on search and rescue over the probation year, I'm acutely aware that there is a lot for me to learn there still. I would also like to get involved with the fundraising team. There's nothing really that I am not looking forward to, though this could just be due to a general lack of awareness! The thing that has struck me the most is the commitment from the Team members, their willingness to give their time is both amazing and inspiring'.
---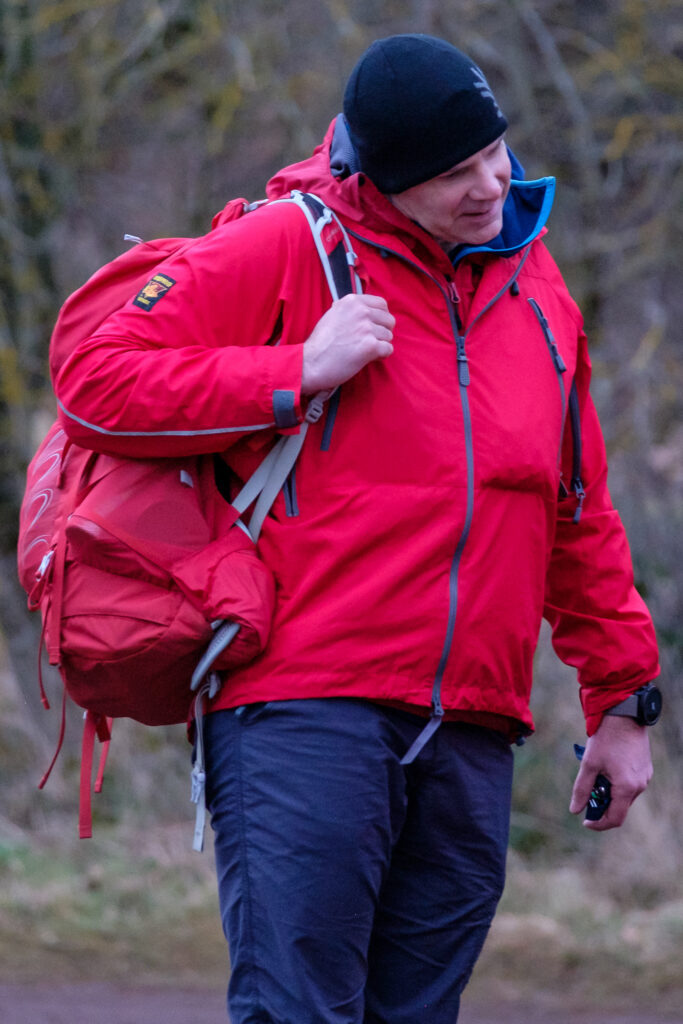 Dan Scoular worked in corporate London for 15-years before starting a consultancy specialising in sustainable organisational systems in 2015. Since then, he has combined work with military service, a Masters degree in Systems Thinking and as much time as he can in the mountains with his family.
'I joined the Reserve later in life, and it awoke a love of the United Kingdom uplands. I was the oldest soldier to compete in the Army's gruelling Cambrian Patrol competition in 2019. That year was a fast-track learning experience. Not just the physical build-up but also the mountain skills that the patrol demands. It was quite surreal for someone who's spent so much of his life in a suit and tie!'
In 2020 Dan completed his Mountain Leader training with his assessment due this year. He says, 'last Summer, I planned and led three adventure training events in my Regiment, culminating with a week-long expedition in the Cairngorms. I'm so grateful for their support. The Regiment is delighted that I am part of the Cleveland Team, and they are hoping I can transfer some of my mountain rescue learning back to the patrol teams.'
Dan has two daughters; one a climber, the other a hill-walker, and spending time in the hills with them and Cally, his Labrador, is his most enjoyable pastime. Dan sees his transition to being a mountain rescue volunteer as a natural progression from one outdoor service to another. 'The initial selection process and training have taken about four months, and it's been so much fun. The Team has so many incredible mountaineers, climbers, medics, and expedition leaders. There are people here who have done it all, and they're happy to pass on their experience.'
He believes the Moors are a vital resource for the North East community, promoting both mental and physical well-being, and hopes that the presence of Cleveland MRT encourages the public to explore this beautiful wild country. 'The Moors are just mystical on a clear Winter's night. Everyone needs to experience it!'
---
Andrew Pearson decided some time ago that he wanted to join the Team but his work involved a lot of travelling. With the Covid lockdown came a change of routine, less travelling and more time at home so he decided that this was the time to "bite the bullet" and send the application in. 'I was really pleased to get the invitation to the assessment day'.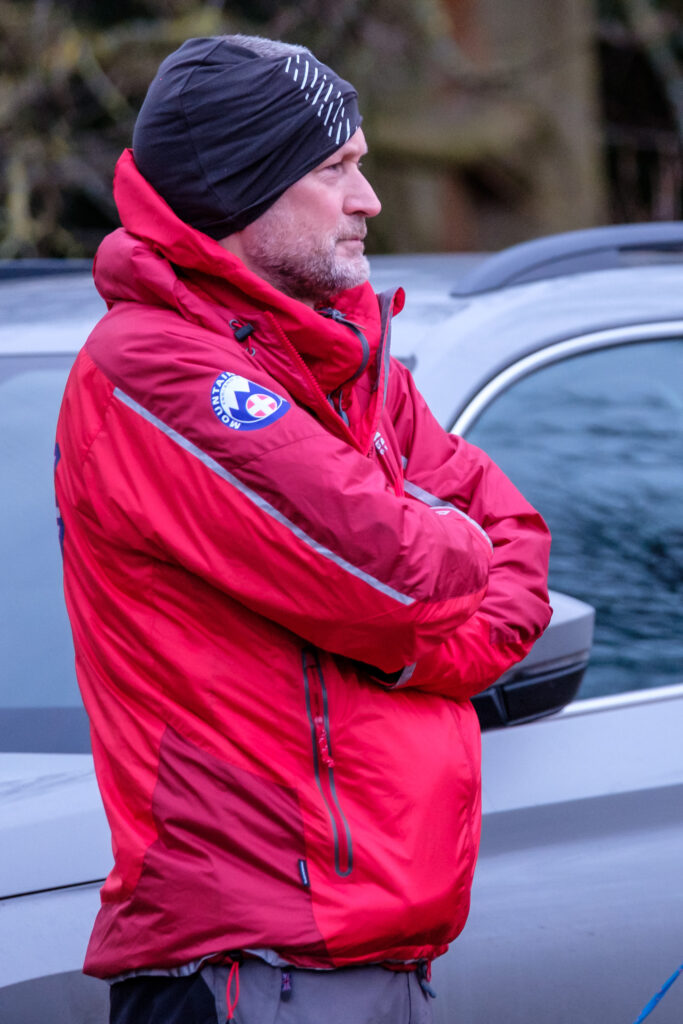 'I've always been active – walking, running, cycling, trail running, paddle boarding and generally enjoying the outdoors. My work is about encouraging people to be active – indoors and outdoors – and so joining the Rescue Team was achieving an ambition that I have had for some time and was an opportunity to learn new skills, meet new people and volunteer in a worthwhile role'.
'The assessment process has been really good. It's been seamless with plenty of opportunity to learn about the team, what they do and how they operate. The practical based sessions "on the hill" have been really useful to put skills into practice. The navigation skills element has been the most challenging. When I started the induction I thought my navigation skills were ok – I got by! I could generally read a map and use a compass but learning night navigation skills, pacing, and micro nav has really been challenging but definitely worthwhile and a skill for life! Passing the night navigation assessment felt like a real achievement!'
'I'm looking forward to the next 12-months, being involved in call outs, developing the skills in real life situations and continued learning. I've enjoyed all the training so far and I'd really like to get more involved in some of the further training opportunities – water rescues in particular. I'm really impressed by the Team set up and I was really surprised by the quality of the Base and the level of resources the team has thanks to the great work of the support team'.
---
Jordan MacSween served in the Royal Air Force as a Telecommunications Operator, responsible for operating and maintaining various RAF, Tri-Service and U.S Department of Defense communications and IT systems. That was when he was first exposed to Search and Rescue; working with the Aeronautical Rescue Coordination Centre at RAF Kinloss.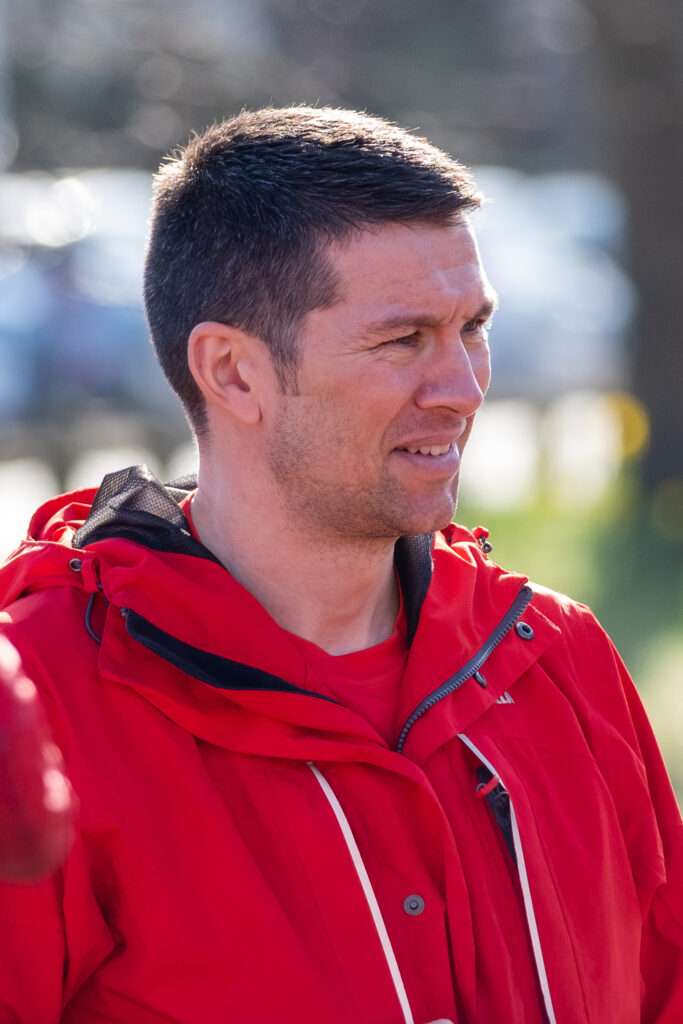 'Part of my role was to allocate HF transmitters and receivers for SAR operations, as well as providing HF radio support. I genuinely loved my time in the RAF and made best possible use of the various adventure training opportunities and expeditions which were available, not all overseas deployments were a chore! I now work as a Software Test Engineer for a U.S company who specialise in networking, security and service management systems'.
'Outside of work, I love spending my time outdoors and I consider myself to be very privileged in that I can be 'on the hill' within a matter of minutes. I used to compete in Ironman distance triathlons and amateur road, track and cyclocross cycling races but after a serious accident during a race, I realised I don't bounce as well as I used to and decided to call it a day. The only cycling I do now is purely for fun, mountain biking around the Guisborough area'.
Jordan competes in ultra-marathons and fell races and is hoping to complete in his first 100-mile race this year and also complete some multi-day events. 'Anyone who takes part in outdoor activities will have experienced the levels of camaraderie and the willingness of others to help like-minded individuals, when it's needed. For me, joining the Team is a natural progression of this and also a way of giving something back to the local community. I believe everyone should be able to enjoy our stunning hills and moors with the peace of mind that help is available when things don't quite go according to plan'.
'It's been a steep learning curve so far and I've been very impressed by the training I've been given to date. The Team have clearly invested a lot of time and resources in their training protocols to ensure they can provide the best possible level of service. In retrospect I possibly underestimated the competencies and hours of training that were required to pass the initial phase of prospective member training but I'm very grateful for the help and mentorship I've received from other Team members'.
'During my probationary period, I'm looking forward to building on what I've learned so far and consolidating the training during call-outs and team exercises. It's been a while since I've driven a Land Rover off-road so it will be exciting to start my driver familiarisation training. There's still a great deal to learn and I'm really hoping that it won't be too much longer before I start to add some value to the Team but for now I'm just really keen to get stuck in and help in whatever capacity I can'.
---
We hope that you enjoyed reading about our new Team-mates and agree that with them, the Team continues to go from strength to strength, building upon an already strong membership base. Look out for more updates on their progress later this year!
Please note that we will not be recruiting any more Search & Rescue members until 2023. If you are interested in a future application please follow us on social media and check out our Joining The Team page.