Instead of our normal weekly training session, Wednesday 28th June 2023 saw a number of Cleveland MRT members honoured for their long service, whilst some other members were engaged elsewhere in a significant national online event discussing diversity in mountain rescue (more of that In a separate post to follow).
To present the long service certificates and other medals we were very pleased to welcome to our Base, Mark Webster, the Chief Constable of Cleveland Police who was greeted by a number of Team members and their family members who had gathered for the evening, together with our President Peter Scrope (Deputy Lord Lieutenant of North Yorkshire). The Chief Constable was given a tour of the Base and discussed the wide range of mountain rescue work, not just the 'normal' search & rescue incidents but also our medical, technical rope rescue and water & flood rescue capabilities. He showed a keen interest in all aspects of our work, spending a good deal of time talking with those Search & Rescue members who were demonstrating various facilities and equipment and also with our Support members Jo, Kath & Andy who explained about their vital work as part of the Team, especially with regard to fundraising.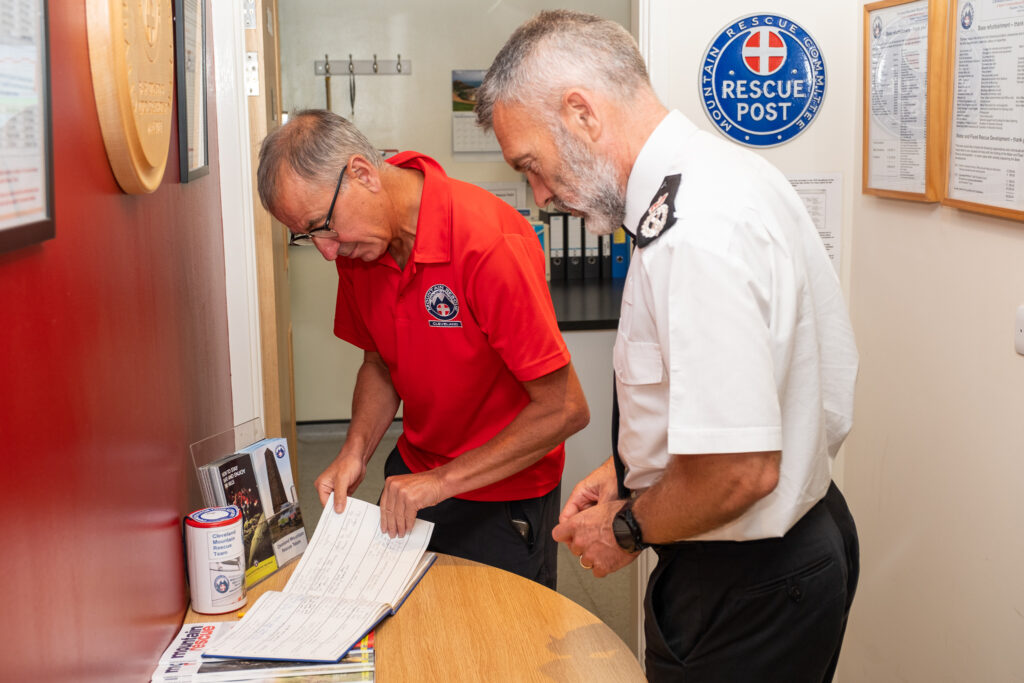 ---
Following that, the Chief Constable very kindly presented mountain rescue certificates of service to several Team members (plus Queen's Platinum Jubilee Medals to two members who were unavailable at last year's awards ceremony). Afterwards light refreshments were served including a cake prepared by our very own Mike Lincoln!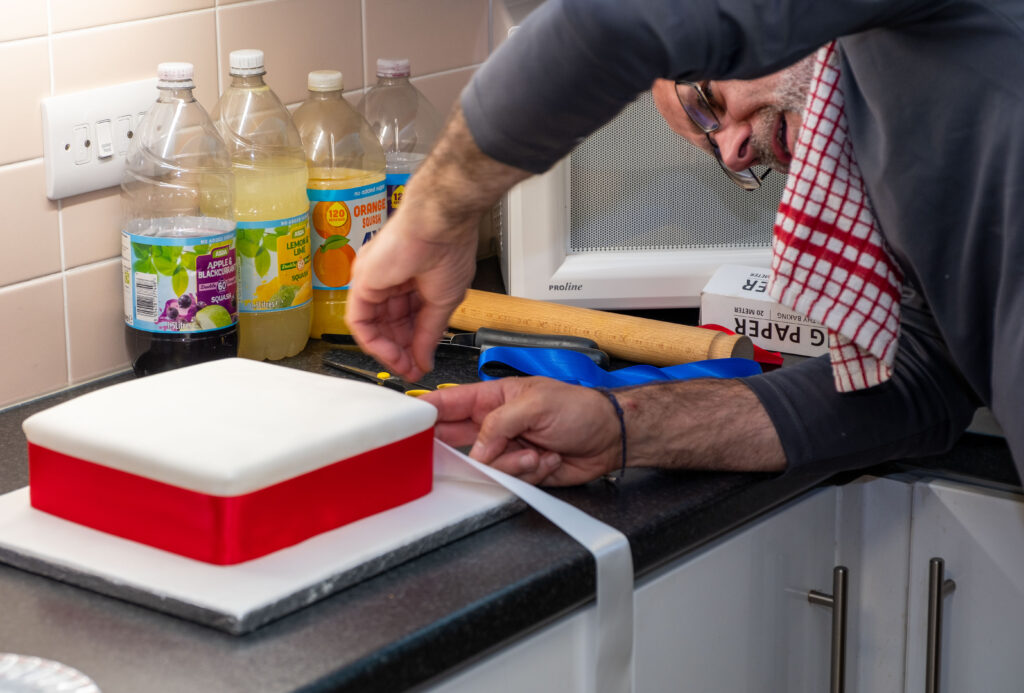 ---
Until relatively recently, MREW offered awards for 50-years, 40-years and 25-years (although the latter has since been phased out with new awards for 10-years, 20-years and 30-years being added). So this year's awards are a mixture of both systems as we move to the new procedure. One of the awards for 25-years service was the first time that an award of that duration has been made to a female member in Cleveland MRT (Carolyn Gallagher).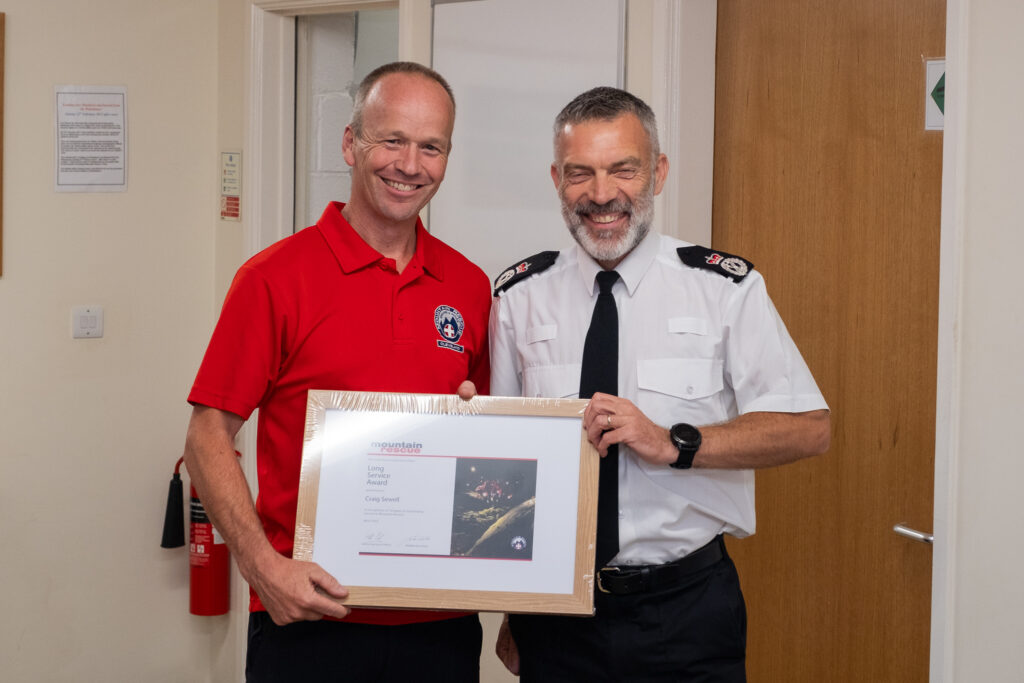 ---
The following current and former Team members were recognised by both Mountain Rescue England & Wales and the Team for 'providing many years of outstanding service to Mountain Rescue and Cleveland Mountain Rescue':
10-YEARS SERVICE
Craig Sewell
Jill Stubbs
Mike Lincoln
Dave Stubbs
Derek Birtwhistle (plus the Queen's Platinum Jubilee Medal)
Sid Bollands
Mal Selby
20-YEARS SERVICE
Richard Cooper
Georgina Taylor (including previous service with Scarborough & Ryedale MRT)
25-YEARS SERVICE
Carl Faulkner (plus the Queen's Platinum Jubilee Medal)
Carolyn Gallagher (the first woman in Cleveland MRT to receive this award)
30-YEARS SERVICE
Duncan Craig
Louis Hume
John Saxton
Tim Wood
Mike Gallagher
Many, many congratulations to all of them – well over 300-years of service to the community between them! Thanks again to Chief Constable Mark Webster for taking the time to spend the evening with us, for presenting the awards and for taking such a keen interest in our work.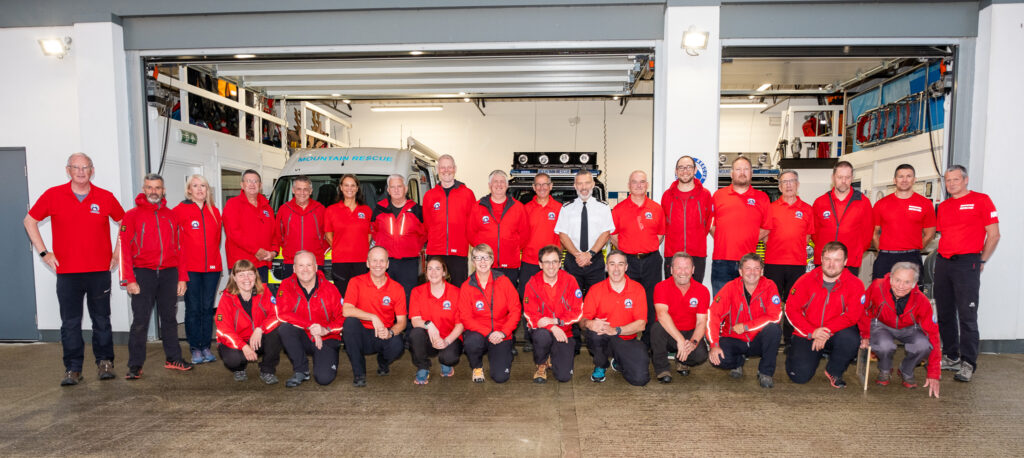 ---