SUNDAY 8TH MAY 2022 (1136 HOURS)
We were contacted by North Yorkshire Police who reported that a runner taking part in an event had sustained a potentially serious leg injury whilst near to Wain Stones, south of Great Broughton.
Two Team Land Rovers containing a total of six people were dispatched from the Team's Base, one going to an RV-point at Clay Bank car-park, the other towards the scene via a farm route to the south of Wain Stones. Other Team members made their way separately from their homes and elsewhere. The Yorkshire Ambulance Service dispatched a first responder paramedic and a separate ambulance crew.
Whilst the Team was en route our call-out officer contacted a race marshal who was with the injured runner. The marshal was able to provide a good, calm and clear update on the casualty's condition, the actions taken to care for her and the location – all of which was very helpful in deciding upon our response. Although a What3Words location had been supplied via the Police we took the opportunity to reconfirm this via our Phone Find system.
Upon the arrival of our first Land Rover crew they commenced treatment of the casualty, providing her with pain relief, until joined by more Team members accompanied by the YAS paramedic. Once the casualty had been stabilised within a vacuum mattress on one of our rescue stretchers she was carried to a Team Land Rover ambulance, loaded in it and transported to Clay Bank car-park where she was transferred to the YAS ambulance to be taken to James Cook University Hospital. We wish her well in her recovery.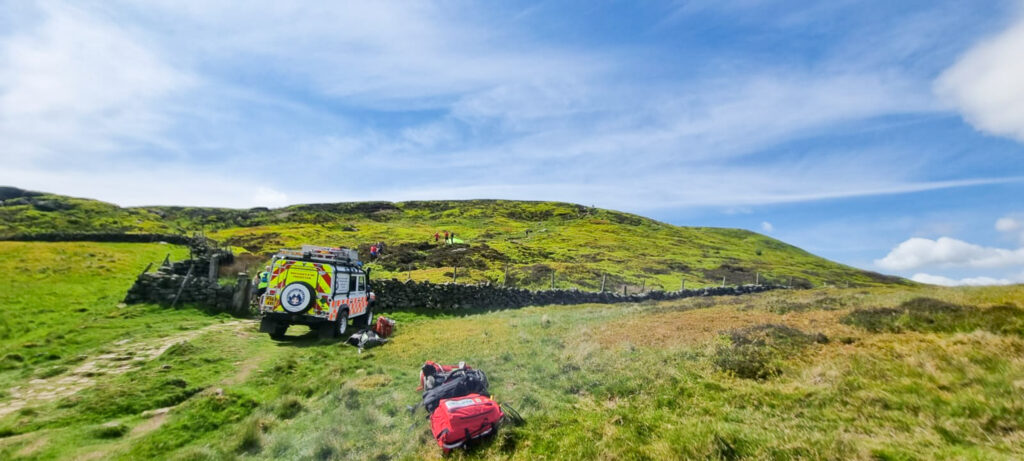 Many thanks to everyone at Garfitts Farm for access across their land and thanks again to the race marshal for her help on the phone.
Fifteen Team Members were involved plus one other coordinating the response from home. The call-out lasted approximately 2.5 hours plus further travelling time back to Base and homes etc (including cleaning and decontamination of vehicles and equipment back at our Base).