INCIDENT 50
Incident 50 Rescue Roseberry Topping
October 18, 2019
Callout 50 occurred on Thursday October 17th at 11:45hrs. A 40 year old lady from Darlington had slipped on a muddy path and hurt her leg whilst on a walk up Roseberry Topping with her father.
The team deployed its two landrover ambulances and was able to quickly reach the injured lady on one of the main paths up the side of Roseberry. The lady was treated at the scene by the Team doctors before being carried down the hillside to a waiting ambulance.
Thirteen team members were involved in the incident that lasted just over an hour.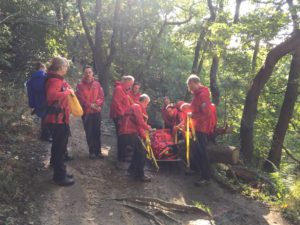 Back to Incidents