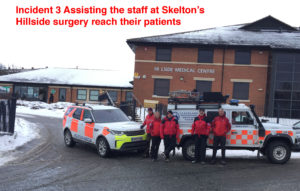 Wednesday 28th February 0900.
The wintery weather, courtesy of the "Beast from the East", saw some of the Team deployed to assist the medical services in East Cleveland. The Team used its 4×4 vehicles to ferry district nurses from Skelton to some of their essential home visits in the hamlets and villages around the town. The Team also transported a vulnerable elderly lady, who lived on her own in a remote house, to a residential care home in Loftus. A Landrover Discovery, on loan to England's mountain rescue services from Landrover, was particularly useful for this job.
Ten members of the team were involved in this deployment for around three hours.