Thursday 26th January 2200hrs
We were called by Yorkshire Ambulance service(YAS) to assist with an injured Police Officer who had fallen on farm land whilst on a police operation with his dog. As he was 300m from the road, the ambulance personnel needed help with the evacuation.
The incident site was on the extreme western boundary of our operation area so a joint response with our neighbouring team, Swaledale MRT, was organised whose base at Catterick was much nearer the incident than we were.
As the teams were arriving at the rendezvous, one of the helicopters from Yorkshire Air Ambulance (YAA) was able to land at the scene and managed to evacuate the injured man to hospital. The air ambulances have only recently had the capability of operating at night since YAA bought their new aircraft last year.
A total of around 25 mountain rescue personnel (15 Swaledale and 10 Cleveland) responded to the incident that lasted around an hour.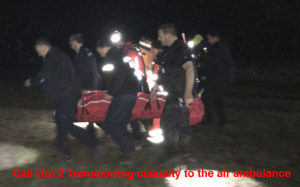 Mountain rescue teams frequently operate with their neighbouring teams when an incident is on their boundary (as in this case) or when there is a protracted callout such as a multi-casualty incident or a long search. The north eastern teams form NESRA…the North East Search and Rescue Organisation made up out of Cleveland Team, Swaledale MRT, Teesdale and Weardale MRT and North of Tyne MRT and Northumberland National Park's MRT and RAF Leeming MRT.