SUNDAY 21ST MAY 2023
Team members dealt with a number of incidents over the weekend whilst providing event cover at the Boltby Bash Enduro. Whilst most of these were minor and treated on the competition hill sections and at our medical tent, one of them proved to be more serious, requiring the involvement of additional Team members who were very ably supported by some of the other competitors and event staff.
Shortly before midday a competitor came off his bike suffering a back injury and, following an initial assessment by one of our 'casualty carers' positioned on that section, other Team members were called to assist, taking with them a range of equipment. Pain relief was administered by one of our 'extended skills casualty carers' and the casualty was then secured within a vacuum mattress on a mountain rescue stretcher. Once stabilised he was carried downhill for a few hundred metres and then approximately a further 650-metres across fields to a waiting Yorkshire Ambulance Service ambulance that had been requested by the Team. He was then transferred to the ambulance and taken to hospital for further assessment and treatment – we wish him well for his recovery.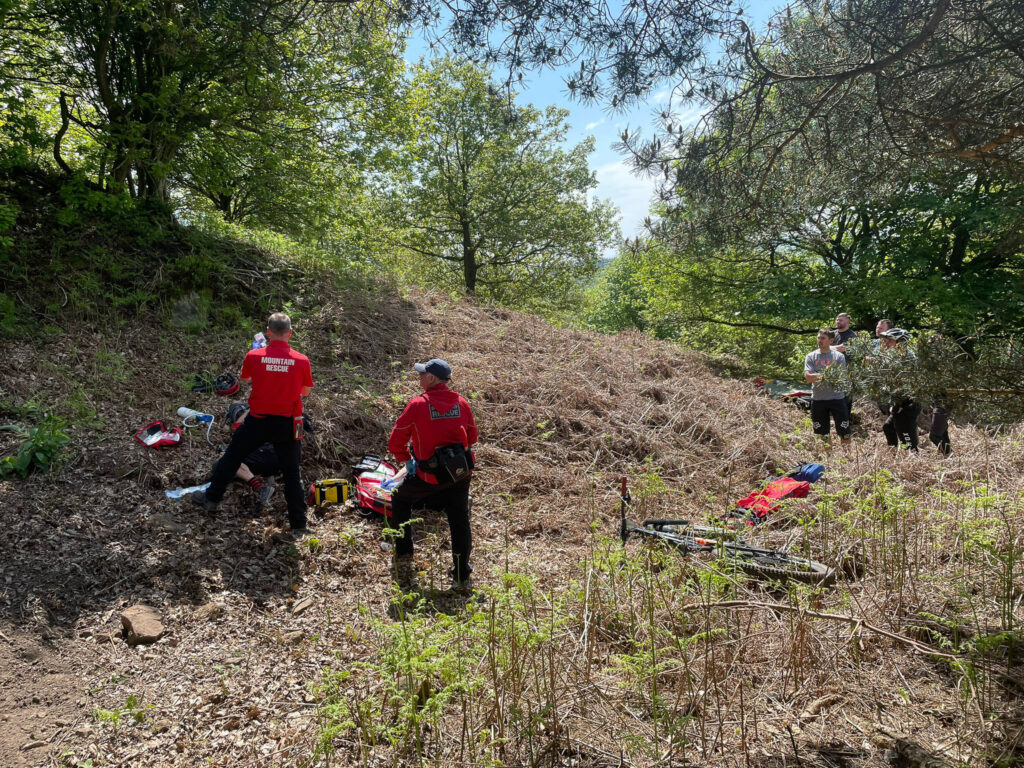 We would like to pay special tribute to seven riders and two Boltby Bash event staff who all provided significant help to the Team by carrying equipment, helping to identify the best extraction route and particularly for assisting to carry the rescue stretcher (and for paying close attention to all advice and instructions given). Those competitors and event staff were a credit to the positive 'can do' spirit for which the annual Boltby Bash is known. 
That particular incident lasted approximately 2-hours and, including controllers, involved eight of our Search & Rescue members, one Support member plus the competition riders and event staff mentioned above. In all 14 S&R and two Support members provided event cover today in addition to those deployed on the Saturday practice day.