WEDNESDAY 18TH OCTOBER 2023 (1843 HOURS)
Following a lull in call-outs in recent weeks this was our third one in the space of three days. Being a Wednesday night, it was a training-night and most Search & Rescue and Ops Support members were either making their way to our Great Ayton Base or were about to set off from home. A few had arrived early. We are currently part way through our Autumn series of casualty care training, which is spread over five-weeks leading up to examinations later this year.
When the call came in from the Yorkshire Ambulance Service they reported that a person had been found unwell in Newton Woods, below Roseberry Topping. We sent one fully-crewed Land Rover from our Base and used the other Land Rover to shuttle others to the RV point on Roseberry Lane as they arrived for the training session, supplemented by a few more using their own vehicles.
One of our Team Doctors, who was due to lead the training session, was driving from home and was the first to arrive, along with the YAS crew. Together they provided appropriate casualty care and once other Team members arrived the person was packaged within a casualty bag for warmth and placed on a stretcher before being wheeled and carried approximately 650-metres to the waiting ambulance. We wish the casualty a swift recovery.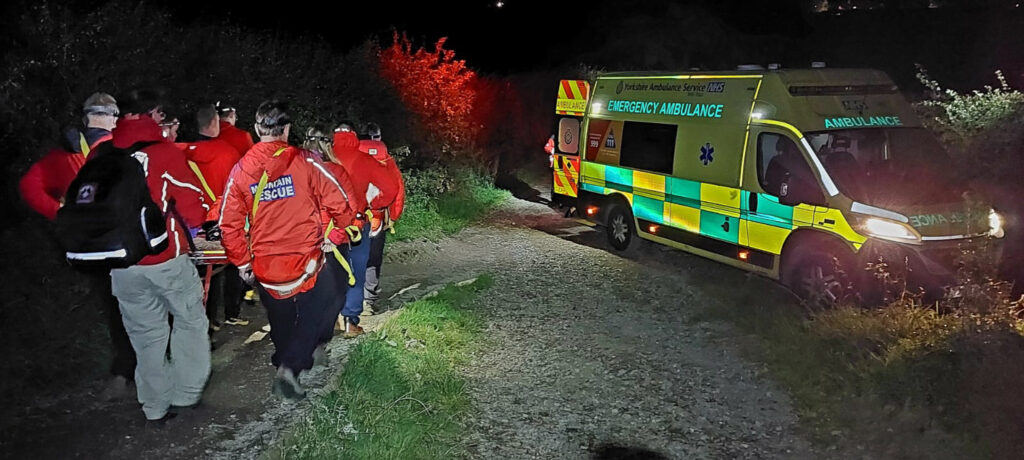 Many thanks to the running group that found the person, placed them in the recovery position and contacted the ambulance service. They had also provided an accurate What3Words location which was confirmed via the mountain rescue Phone Find system when our call-out officer contacted one of the group by phone to check on the circumstances. Well done to the running group for their actions.
Twenty Cleveland MRT members were involved with another ten at our Base on standby to assist, but not ultimately required at the scene. The call-out lasted one-hour.