SATURDAY 11TH NOVEMBER 1647 HOURS
Whilst call-out 43/2023 was running, we were again contacted by the North East Ambulance Service regarding someone with a lower leg injury, this time following a mountain bike accident in Errington Woods. We released some members from the first call-out and also five members (who had just completed a training day in support of the regional extended skills casualty care weekend) were redirected to an RV-point just outside New Marske.
Upon arrival they were joined by our second Land Rover crew so the rescue party carried a set of rescue equipment to the casualty site where the NEAS crew were already treating the male teenager involved. As his injured leg had been splinted we then lifted him onto our rescue stretcher and wrapped him inside a warm casualty bag before carrying him approximately 700-metres, with a few stops along the way to administer pain relief. He was then transferred to a waiting ambulance for transport to hospital.
Thirteen members were involved in this second call-out which lasted just under two-hours, before returning to Base and homes for yet more vehicle cleaning – not to mention a fair bit of cleaning of muddy boots and clothes. Our best wishes to both casualties for a full recovery.
As we often state all mountain rescue teams rely on the donations to keep functioning. So it's probably worth pointing out that it is only due to such donations that we can be trained and fully equipped for a range of eventualities such as concurrent incidents like these. Thank you to everyone who has donated over the years!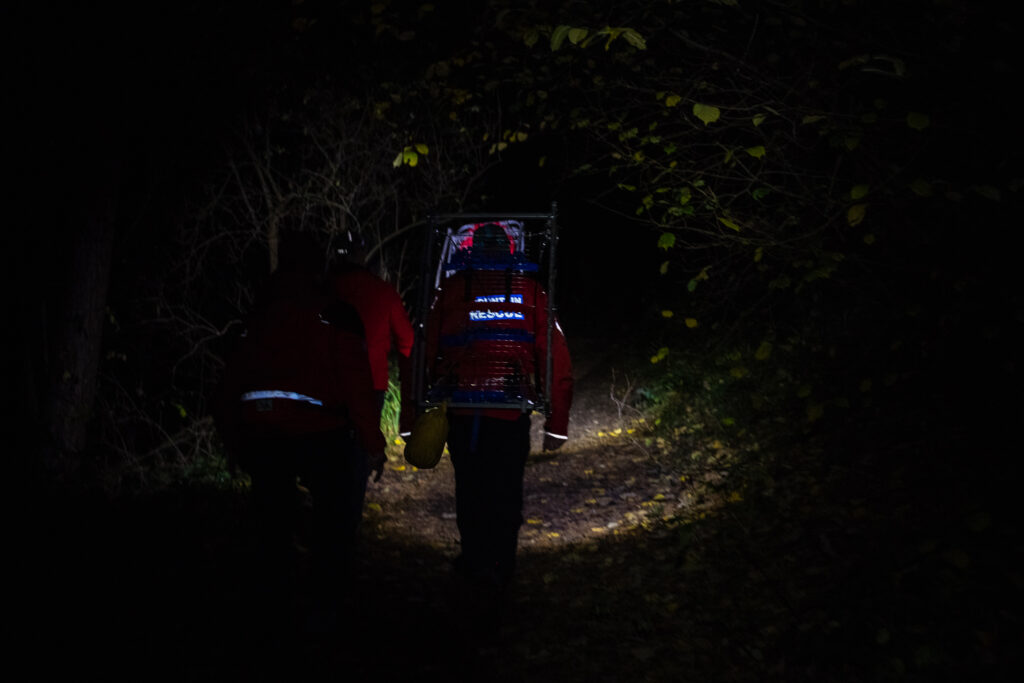 Photos on this page are from the Errington Woods call-out.