| | |
| --- | --- |
| Information | Details |
| Location | Main Hall, Eaglescliffe School |
| Date | Thursday, March 16th 2017 at 7pm |
| Tel | 01642 352370 |
| Entry Fee | £15.00 |
Mountaineer Doug Scott CBE, will be telling the story of his legendary crawl down The Ogre in Pakistan's Karakorum, following the first ever ascent of with Sir Chris Bonington 40 years ago. The Ogre is now recognised as one of the most difficult mountains in the world to climb. Twenty further attempts were made before it was finally climbed again, twenty-four years later. There is no easy way to the summit…or off it.
On the descent things began to go wrong, starting with Doug breaking both his legs just below the summit. This epic tale of hard climbing, team work and survival – laced with black humour – has now become part of mountaineering folklore.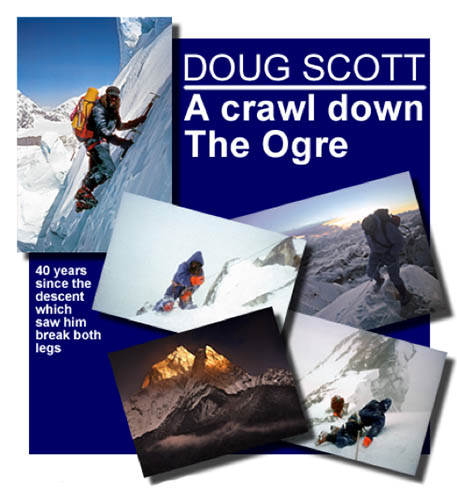 Doug was to visit Pakistan on six more occasions for climbs around Broad Peak and K2 and was able to repay the help given by the Balti of Askoli. He had installed a clean water system that dramatically reduced the previous 50% child mortality mainly from enteritis. This gave him the confidence to eventually help establish 60 projects in remote areas of rural Nepal – Health Posts, Schools and Porter Rescue Shelters – through his charity Community Action Nepal.
Proceeds from the talk will go jointly to Egglescliffe School's project, working with CAN schools located in the Lower Solukhumbu region of Nepal and to CAN's Nepal Earthquake Appeal, helping fund the reconstruction of projects damaged or destroyed in 2015. Doug will update the audience on the progress being made with reconstruction and the regeneration of the communities CAN serves. 
Doors will open from 6.00 pm. There will be a sale of Nepalese goods, posters, cards and signed framed mountain prints and Nepalese goods before the talk and during the interval. Doug will also be signing copies of his award winning autobiography 'Up and About'. 
For further information www.canepal.org.uk