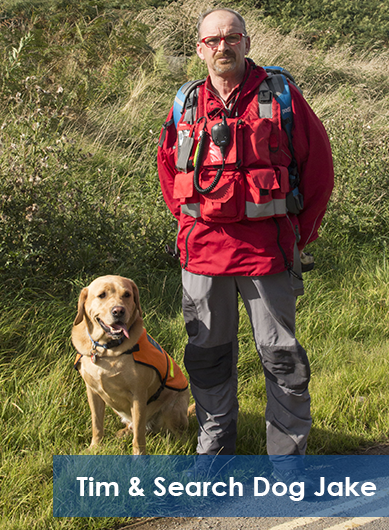 Jake a 4-year-old Labrador and his handler Tim are both members of Cleveland Mountain Rescue Team. 
Tim has been a member of Mountain Rescue since 2005. In 2013 deciding that he would like to become a Search Dog Handler he got Jake at 8 weeks old and when Jake was 3 months old their training to become a Mountain Rescue Dog Search Team started. 
After 3 years, in Jan 2016 Jake and Tim passed their initial grade and became a fully operational Mountain Rescue Dog Team, not only supporting Cleveland Mountain Rescue Team but other Mountain Rescue Teams across England. 
Tim and Jake continue their training, working towards the full operational dog status which with a fair wind will be in Jan 2018.